I've had tons of ideas for short stories and novels over the years and a few have blown up into actual projects that are in production. They're each in various states of completion from Jessie, which earns a chapter about once a month, to Remedium, which hasn't seen a single idea written down since 2007. Here is a synopsis of each story and a link to where you can read them or read more about them.
Serial: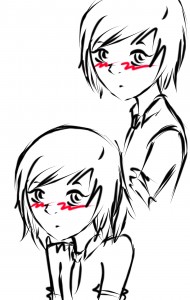 Jessie — Jessie's a shy, cute, androgynous high school boy whose feminine looks always seem to get him mistaken for a girl. When he's transferred into a new private school, things start getting out of hand fast thanks to his looks, but what happens when he's suddenly turned INTO a girl? Life gets more crazy, that's what! Soon she's got guys chasing after her, girls chasing after her, and the fun doesn't stop there!
Jessie is a silly pet-project I came up with for fun in 2011 or so and has blossomed into an amazingly cheesy shoujo light novel. I hope to make it even sillier and even shoujo-ier as it develops. This story is episodic. Each chapter is generally a closed story, with the occasional one here and there crossing over several chapters. It usually gets a chapter posted every month, and can be found here.
A working list of the characters can be found here.
Novels:
Arcana of Atlantis — Liz Darren is in a race against time to stop an artifact smuggling ring from getting ahold of an ancient relic said to have enough power to have destroyed the mythical island of Atlantis. Liz must enlist the help of her sister Daisy and colleague Rusty to uncover the hidden trail through civilizations past to get there first. But what will she really find at the end? Only one way to find out. This adventure novel takes place in the near-future and incorporates real-world research and locations as Liz travels the planet in search of clues.
This project has been in the works since about 2009-2010 and, while Jessie's taken the focus of my writing time, I plan to get work done on this soon. I'm putting together bits and pieces here and there and sharing some parts with people here as they happen. The ultimate goal is to post some draft chapters here on the site, and with tons of refinement, publish the book when it's ready. Updates, blogs about the project, drafts, and 'demo' ideas can be (or will be) found here.
Remedium — Adapted from an old screenplay I never managed to get filmed, this is the story of Paige, a paper-pusher for a nondescript corporate firm who meets up with her old college flame when terrorists take her building hostage. Now on board helping an elite secret anti-terror unit, she must unravel the mystery that threatens the lives of her friends, family, and the nation and put and end to the nightmare surrounding her team in a remote midwestern town.
This project will be finished eventually, either as a novella, a screenplay, or even a B-movie someday thanks to some friends of mine. It's not really a priority for me but I don't want to forget it. Someday it'll happen.
—
There are plenty more that are unnamed, including a short about an abandoned amusement park, that I would love to share with everyone in the future. For now, Jessie and Arcana are the key focuses of my writing life.